Last weekend was Heavenly in my home town of Hebden Bridge.  It was Heavenly weekend, a celebration of the 25 year-old record label whose roster includes Doves, St Etienne, The Vines, Magic Numbers, Temples,  Cherry Ghost, Stealing Sheep, to name but a few.
My good friend and blogger Olivia Rosen was up for the weekend, unable to resist such concentrated musical riches within the pulsating walls of what she claims to be her favourite independent music venue, the Hebden Bridge Trades Club. She was planning to write a blog about the weekend, and the gigs we had managed to get tickets for among the rapid sell-outs of the headline events.
When she arrives, she tells me she has almost been discouraged from writing her music blog at all, such is her admiration for a music blogger whose site she had recently been following. "He writes with such fluency. So clever and knowledgeable. It makes me want to give up". I know how she feels. As a writer I have recently been so daunted by the work of our talented project writers, that I wonder why I continue with my inept scribbles.
The week before, I'd been to see Stuart Maconie talking about his recent book The People's Songs. He'd explained why he'd chosen to write a social history illustrated by 50 popular tracks, rather than the 'rock history' he was originally asked to write, which might require him to pen such phrases as 'Punk emerged as a reaction away from the bloated hegemony and faux intellectualism of the progressive rock genre which dominated the 60's and early 70's' (something like that. It involved the words 'bloated' and 'hegemony' anyway and he claims it is a phrase his Mum could give in answer to the question 'Why punk?'). He decided to write a book about the soundtrack to people's lives, the actual soundtrack of My Boy Lollipop, She Loves You Yeah Yeah Yeah, Y Viva Espana, Ghost Town, Dedicated Follower of Fashion, Bye Bye Baby, tracks which may not be the coolest tracks to like, but which, when heard, bring back immediately the years in which they charted and the other things that were going on then. They are tracks which summon up what it was like to be alive in Britain in 1975 or 68 or 84.
I visit the site of the music reviewer who is giving Olivia her blog-envy. He is cutting a different kind of prose altogether. It's reminiscent of those NME reviews with a certain swashbuckling timbre deriving from the arrangement of the words 'muscular', 'eclectic', 'landmark',' lock-down', 'rousing', 'slice', 'attitude', 'unforgiving', 'real-deal', 'retro', 'bomb', 'headline', 'authentic' and 'rendition' in an original order around the phrase 'dropped a tight set'.
So, the thing with Olivia's blog Gourmet Gigs. It was originally called Festivals Food over Forties, and she started the blog to describe venues, festivals, bands and eateries which might have a special appeal to the older gig-goer, or at least be worth exploring whilst feeling sort of welcome.  What she's writing about is what it is like to be there.  Why she decided to go, how the venue feels, what the audience is like, whether as a forty something (and a bit) one will find oneself in the middle of a teen mosh-pit or among a crowd whose demographic requires frequent trips to the lavatory (as in the audience for the film Northern Soul). Sure she describes the set, what the band played, how it sounded compared with familiar recorded versions or other performances of that tune. But she also talks about how the artist inter-acted with the audience, how the crowd responded, technical glitches and, most importantly how the music made her feel .
If I'm reading about any cultural event, that's what I want to know. What was it like to be there, did the music uplift, challenge, surprise?  What carried you away?  It's how I think about the art I produce as well.  How do I want the audience to feel, what will their relationship be to the work? Rock Bollocks as a writing style is pretty much the same as Dance Bollocks or Visual Art Bollocks (two genres which excel in scrotal prose IMHO), it serves to obfuscate, to parade a false cleverness and to mask the visceral audience experience.  I have been at symposia on how the arts can thrive and survive involving groups of artists, where what the audience feels or thinks appears to be the last thing on anybody's mind.
So, after that long pre-amble, where does that place me in penning a few lines about our weekend of Heavenly in the Pennines?  Being somebody who long since stopped poring over music papers (in about 1978) and for whom a combination of CRAFT* and plain old ignorance means that the only two bands I could initially bring to mind on the Heavenly label were Doves and Magic Numbers – I can hardly write from a position of knowledge, or even valid opinion, about muscular guitar riffs, rousing ballads, authentic lo-fi renditions or real-deal slices of glam-rock-indebted, retro-bombs. When all's said and done I can only talk about a) why I enjoyed the weekend b) a few quirky thoughts and c) what left me wanting more. So here goes.
Why I enjoyed the weekend : Three gigs over two days, two of them in the afternoon, brought back to me why I love live music in a small venue. You get close to the artist, you see how the musicians inter-act with each other. There's a power in hearing the acoustic guitar echo in real acoustic space as well as through the PA. In a packed room, you feel the vibe between the band and the audience, a sparky, friendly, complicit relationship through the tunes which you are loving being a part of.  In the afternoon, you don't drink a load of beer and hence you don't have to make several trips to the loo. You're pleasantly mellow on your half a cider, but not alchohol-euphoric. You're listening to night time music while it's light outside the blacked out hall, in quiet moments between numbers you hear birds in the trees. You let the music in a different door, and your heart soars with the piano chords.
A few quirky thoughts :  When you are close to the stage you notice that the keyboard player for Cherry Ghost has come on stage in his socks.  You ponder on why you never noticed before that Jimi Goodwin plays left-handed bass or that he has the most massive head (and I'm from a huge-headed family, I buy my hats from rasta shops). Which adds to the demeanour of understated niceness he gives off on stage.  And you come -to around the third number of Eaves' set to realise that this guy has a genuinely lovely voice and some beautiful melodies, but a performing artist who plays acoustic guitar and sings miserable songs would be giving themselves a leg-up if they steered away from the Neil the Hippy look, because it takes me as an audience member three songs into the set to get that Young Ones gateway behind me.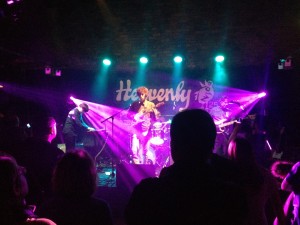 What left me wanting more : The Trades Club felt like the coolest venue on the planet this weekend. The Jimi Goodwin gig sent me away to re-aquaint myself with the oevre of Doves and to listen to his new stuff.  The Cherry Ghost gig sent me to the merchandise table to buy a CD, only to find that the CD is now a redundant format. It's either vinyl or downloads .
In 2015 I shall be doing three things : 1. buying a turntable 2. renewing my lapsed Trades Club membership, and 3. seeing and hearing more live music in small venues everywhere.
That's all folks. If you want to know more about the sounds, I suggest you read a proper music blog like Gourmet Gigs.
*Can't' Remember a Fucking Thing