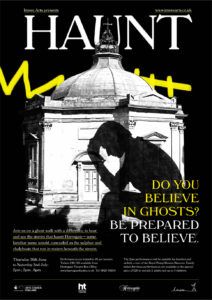 HAUNT /hɔːnt/
To inhabit, visit or appear to in the form of a ghost
n. A place much frequented.
v. To haunt one's thoughts or memory
Haunt Harrogate started in January 2015 with an idea by Steve Toase based on his personal experiences living in vulnerable accommodation in Harrogate as a teenager:
'After I was kicked out of home at 16 I lived in three bedsits across Harrogate, as well as spending some time No Fixed Abode. All these bedsits were within large town houses, associated with Harrogate's opulent identity as a spa town – a place of healing. As well as being disrupted by electricity meters cutting off without warning, and people I did not want to see appearing in my house, I was haunted by this Harrogate as a rich place. Harrogate's ghostly presence in my life kept my voice silenced as part of life in the town.
That was twenty years ago. My experiences are still a spectral presence in my life. I believe that people who are homeless and vulnerably housed now are still haunted by Harrogate, the town they live in.'
The aim of the project was to explore this idea with people experiencing homelessness, and bring together their stories through creative writing. On a public level, to integrate the stories of marginalised people, present a nuanced narrative to counterbalance the town's dominant heritage of opulence and healing and raise awareness of Harrogate's homeless community.
The first phase of the project included workshops on creative writing with people experiencing homelessness and vulnerable housing, and publication of an anthology of work by 12 of the writers. Work from the anthology, including images by award winning photographer Paul Floyd Blake, was included in an exhibition at the Royal Pump Room Museum.
Do you believe in ghosts?
In 2016, the material was developed into a promenade performance, co-produced with Harrogate Theatre. Between 30th June and 2nd July 2016, audiences were taken on 'a ghost walk with a difference' around Harrogate : part audio tour, part performance, part installation. It started at The Royal Pump Room Museum, took in Valley Gardens, The Stray, The Alexandra pub, the town centre, ASDA and places significant to participants who have experienced homelessness. It blended ghosts from the past – a boy with polio taking the waters, the writer George Montgomery, Alex of Hesse, who would become the last Tsarina of Russia, a maid at the Majestic Hotel in the fire of 1924 – with contemporary voices of homeless and marginalised people, telling their stories of life in Harrogate. The tour arrived at a room underneath the library for a story told in a bedsit party, the unfolding of two central characters' journey from the spectral chaos of their past homeless lives to a more hopeful future.
Richard Harries, a participant who experienced many years of vulnerable housing in Harrogate, and who wrote a poem about the sad experiences of his late sister Judi, also homeless, wrote of the performance 'I loved it and loved what they did to the work of mine included . I thought your performance was very special and wonderful'
Written by Steve Toase, Becky Cherriman and the Haunt Writers. Music and sound design by Kwah. Projections & lighting by Al Orange. Movement by Zoe Parker and Tom Hunt. Director Tessa Gordziejko.
For full credits see here.
Listen to audio tracks from the performance
Supported by Arts Council England, The Scurrah Wainwright Trust, Two Ridings Community Foundation Arts for Change Fund, Harrogate Museums and Galleries. Presented in association with Harrogate Theatres as part of the 2's Company 2016 season.
Haunt Stories
Read some of the writing created for Haunt on the project's dedicated blog.
For Haunt Harrogate thanks and credits, please click here
Photo credits: Paul Floyd Blake
HAUNT ANTHOLOGY
"The lapwing had taken all his words, leaving him no voice for his own story…"
A collection of work created through the Harrogate Haunt project was published in a pocket-sized book that brings together poems and stories by people who have experienced homelessness in Harrogate, with moving portraits and landscapes by award winning photographer Paul Floyd Blake.
"and where were you when the fire burned down my soul?"
The anthology was launched in 2015 at the Royal Pump Rooms Museum. Copies of the anthology can be bought for £5.00 + P&P, please email hello@imovearts.co.uk. Proceeds will go towards future Haunt projects with peopl;e experiencing homelessness.
This film shown below is 'Homelessness and Bedsitterland in Harrogate' by Haunt contributor Richard Harries who's written about his experiences of homelessness in 60s Harrogate.
To read more about the Haunt Harrogate writing project, visit Haunt's own blog site