My writing comes from many different sources. Landscapes, people and places. Love and parenting. Memory, loss, childhood and change. And shoes.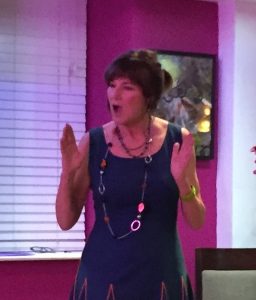 Nowadays most of my writing has climate and environmental themes.  I've been growing my practice as a performing poet. I was one of three poets who created and performed breath:[e]LESS a spoken word/music performance exploring climate psychology, in Bradford, Liverpool and Hebden Bridge 2015/16. I've performed at poetry events across the north, for the Climate Psychology Alliance conference 2016, as composer/pianist Lola Perrin's guest performer on her Significantus (2017) and End Climate Chaos (2019) tours.
I'm climate activist, blogger and member of networks of artists making work about the climate crisis. I recently attended a course with The Dark Mountain Project which had a profound affect on the way I see the role of the artist in the Anthropocene.
I am recording an EP length collection of poetry and electronic music with composer/ producer/ DJ Rory Gordziejko (who also happens to be my son) whose performing projects Kwah and Tea Tree have been heard on stages across the UK and Europe. The EP is called Another Breath and we are also performing it live.
Here's one of my shoutier poems about climate chaos… Well WHAT's THE WORST THAT CAN HAPPEN?
And here's a more reflective one – MEETING THE SEA