Meet you at The Mansion was a walking performance inspired by and celebrating the 150th anniversary of acquisition of Roundhay Park for the people of Leeds.
Prior to that, the park had been privately owned since the Norman Conquests, and the audience met characters along the 5 kilometere route who invited them to think about private and public space, the nature of permission and the importance of parks and other green spaces for clean air, exercise, connection with nature and enjoyment.
At the start of the performance, Adam the Gardener arrived to tell the audience the history of the Mansion, inviting them to imagine a nineteenth century, smoky, industrial Leeds and the open space and clean air offered by the park's elevated position. Assisted by Miss Inform, (whose additions may or may not have been true in the commonly understood sense!), Adam led the audience around the park where they encountered a foraging minstrel who sang to them under the arch of the faux-medieval folly, Madonna, who performed in Roundhay Park in 1987, a huntress from the 11th century and The Gamekeeper, who appeared at various points in history demanding to know whether the audience had permission to be upon the private lands of his masters. 
They also met Archibald the Archeologist who had found some interesting artefacts in the woods, relating to Leeds industrial and social history, and and his assistant Ginalda the Poet, who connected these themes and woodland to her homeland of Cape Verde. 
In 1871 there was a demonstration of 60,000 people marching from Leeds to Roundhay to demonstrate their support for a public park. Despite this, the purchase was regarded by some as a waste of money because Roundhay was inaccessible, from the city centre. It was initially branded as a 'White Elephant', until the first public tram with overhead power in Britain provided connection to and from Leeds city centre in 1891 which greatly increased access to, and therefore use of, the park.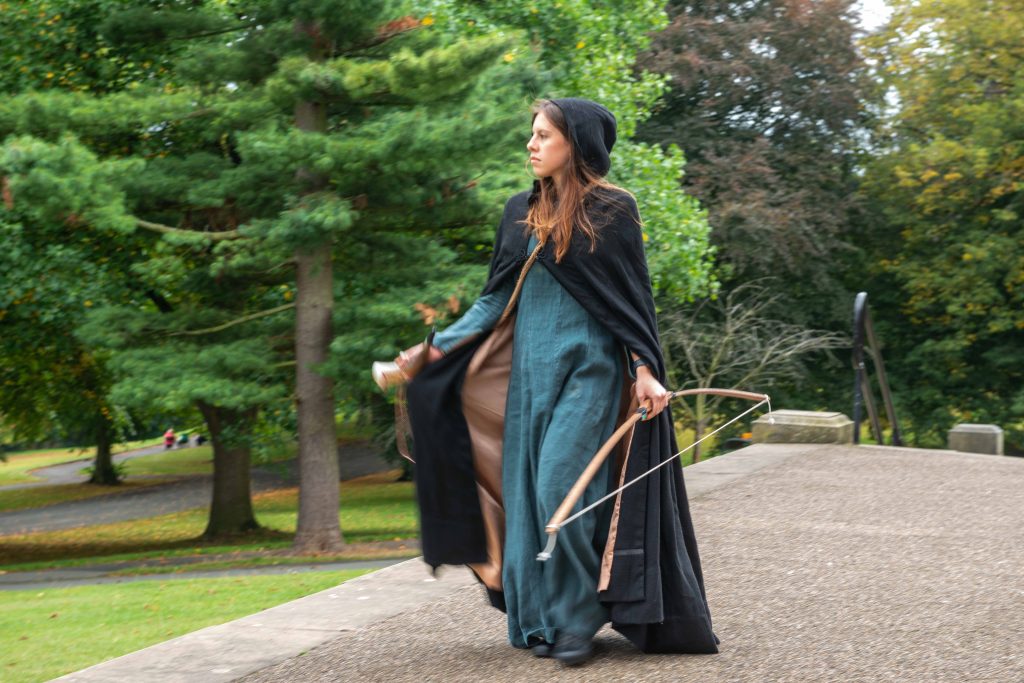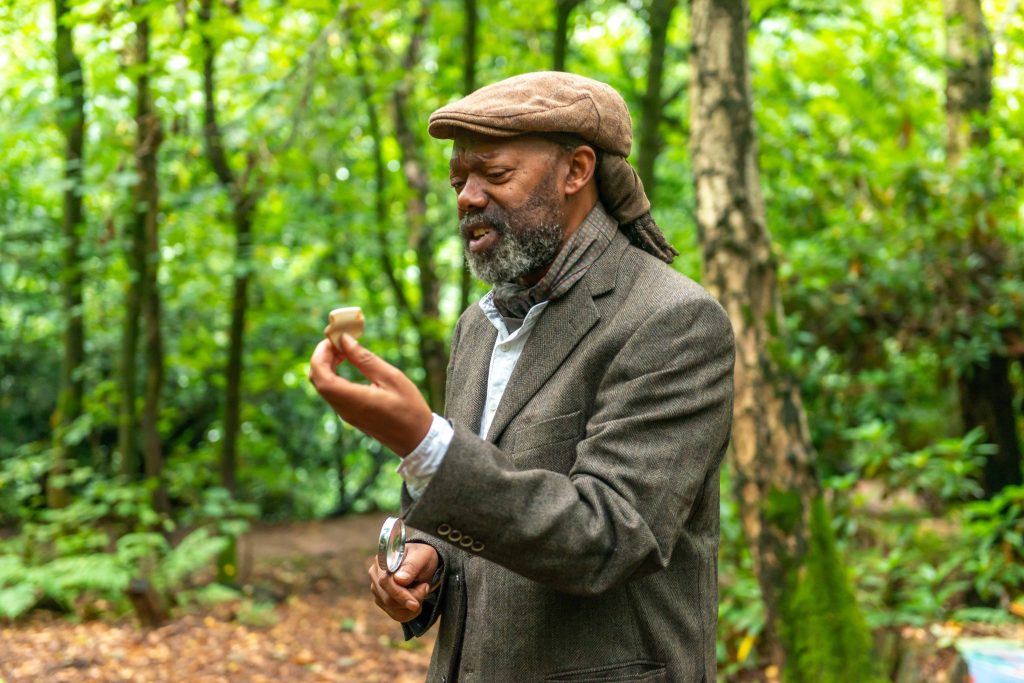 Nowadays, the park is used by around a million people annually and regarded as an essential green 'lung' for the city.  At one stage on the walk, the audience were invited to be part of that demonstration, carrying placards which challenged the waning power of the landed gentry (via the Gamekeeper) in the argument for the value of public realm and access to nature – using the words of people interviewed in the park during the research period about their own lived experiences and the importance of the park in their lives.
Meet you at The Mansion? was part of the Roundhay 150 project funded by Arts Council England and the National Lottery Heritage Fund, produced by A Quiet Word. Other activity included working with schools to create filmed 'recreations' of famous events in Roundhay Park; writing workshops with various community groups; and a downloadable audio walk and map featuring stories and voices from Roundhay Park.
Photo credits: Lizzie Coombes