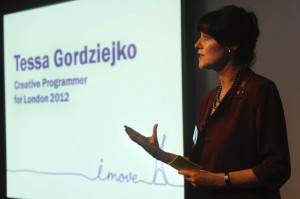 Between 2007 and 2012 I was in charge of programming the London 2012 Cultural Olympiad in Yorkshire As part of that job, I established a programme called Imove, worth £4 million, with a big slice of funds from Legacy Trust UK. Imove commissioned and produced 32 arts projects on the theme of human movement.
'One of our most successful programmes which has developed and delivered amazingly innovative, creative and visionary cultural projects all across Yorkshire' Legacy Trust UK. The programme was so successful, that Legacy Trust UK gave us some more money in 2012 as part of their 'transition funds', to help us establish a future life for Imove. Imove Arts is a lean organisation, fast on its feet and responsive to ideas and opportunities. We work with artists at different stages of their careers, shaping ideas with them as collaborators, providing a hands-on production capacity to realise them, and creating deep and broad audience engagement around the projects. It is also a vehicle for our own creative projects.
a project we developed over 2015 and 2016 working with writers Steve Toase and Becky Cherriman, and a group of writers who have experienced homelessness. We published an anthology of participants' work in 2015, and created a site specific promenade performance/ installation in 2016 based on this material, discovering Harrogate's ghosts, past and present. We expect to haunt other towns with this project – watch this space.
is a spoken word and music live set
about denial, water, staying alive.
The city, sunsets, hope and threat.
It's about our hearts and heads, battling to survive
global changes. It's about anger, love and death.
Oh … and Terry and Julie. Don't hold your breath.
Three poets, one DJ. A crowd.
Words, beats, stories. Dancing is allowed.
Breath[e]:LESS is about the stories we tell ourselves and other people – about what's going on with climate change. It continued the collaboration with DJ/Composer/Producer Kwah, exploring climate psychology stories, and also with fellow poets Tom Hunt and Ralph Dartford and video/ lighting designer Al Orange. Directed by Iain Bloomfield of Theatre in the Mill, it was first produced in 2015 in Bradford and Liverpool, and then did a gig at Hebden Bridge Trades Club in March 2016 with new material responding to the devastating floods in December 2015. There's a section of my 'flood story' on my writing page. We are currently taking bookings for a tour in Spring/ Summer 2017.
Some of the projects I've produced for Imove Arts before 2015  :
in 2013, was a lyrical and beautiful evocation of the seaside in music, words and images created by film-maker Andy Wood, writer Rommi Smith and composer Dave Kane with a live band, performed at the Hyde Park Picture House in Leeds. A film version of the piece has been made by Andy Wood, shown at Coastival, Hebden Bridge and Beacons festivals in 2014.
was an inspired piece of creative eccentricity in April 2014 as part of Yorkshire Festival, in collaboration with Hebden Bridge Piano Festival. Inspired by the forthcoming Tour de France, eighteen cyclists pulled a grand piano up Cragg Vale, the longest continuous ascent in England, on the Pianoporte, a sculptural vehicle designed and built by Andy Plant whilst a new commissioned cycle of music by Dave Nelson was played by a series of 15 pianists.
was a performance and music experience in 2014 that explored the emotional responses to climate change. Directed by Mish Weaver, Artistic Director of Stumble danceCircus, with an original electronic musical score composed by the DJ/composerKwah, it stemmed from an original vision of a travelling circus arriving at a dance night with an audience in tow, and a story to tell.through words, voice, movement, physical tricks and the strength and physicality of circus arts.