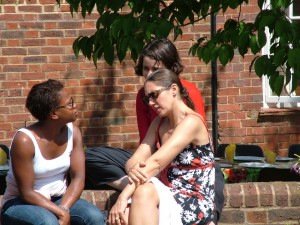 My career has spanned a lot of time, distance and experiences, all of which have built learning that has been useful. I'm committed to lifelong learning and feel I still have a lot to learn. Part of this is my ongoing exploration of physical culture and movement.
The most important and most recent learning programme for me was the Clore Leadership programme, of which I was a Fellow 2005-7. A Clore Fellowship gives you an incomparable opportunity to share learning about cultural leadership at the highest level with an amazing cohort of peers, and also to design an individual programme of learning experiences, courses, conferences, placements and mentoring. As well as the core residential elements where we learned about authentic leadership, strategic leadership, innovation, dealing with challenge, politics, communication, media and presentation (to name but a few strands), I also took business school modules in Strategic Decision Making, Finance and Marketing, did training in NLP, was mentored by Anthony Sargent, CEO at The Sage Gateshead, did a three month placement at Bridgewater Hall and a mini placement with Northern Ballet Theatre on tour to China.
I was hugely grateful for this amazing opportunity, which transformed the way I approached my career and what I wanted from it. I have mentored Clore Fellows from the 'emerging leaders'' programme subsequently, and am committed to helping younger artists and producers develop their careers.
In 2012, as part of Imove, we supported six young artist/ producers in our Apprentice Producer programme, enabling them to work alongside our team of producers, and produce their own project with a small budget. I designed a range of training materials on marketing, budgets, business strategy and project development, and we had other producers come to talk to them about their approaches to making work.
'To teach is to learn twice', somebody said. That's why I 'll carry on mentoring, coaching and training, and helping emerging artists shape and develop their work.